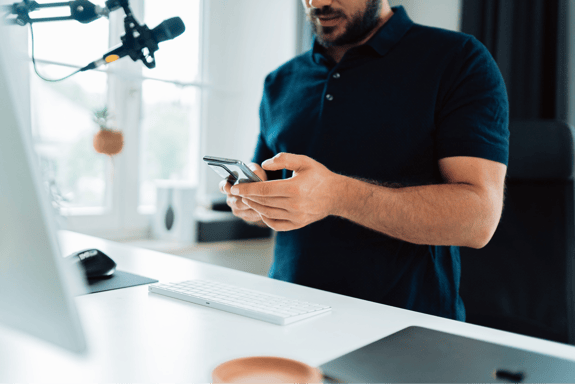 Most Common
Objections
Most frequent doubts for not taking advantage of virtual knowledge sharing experiences.
Friction
Most Frequent Doubts
"

We have limited bandwidth and need to focus on our current projects and priorities.

"
TIMING

"Timing is not right for us at the moment. We have ongoing projects and implementing a new platform would be disruptive."

CONTENT PRODUCTION

"Content production is a significant challenge for us. We don't have the resources or expertise to create compelling and engaging content for the platform."

MEETING STRATEGY

"Our meeting strategy is already effective, and I'm not convinced that a virtual experience platform will significantly improve our collaboration and engagement."

EXISTING PARTNERSHIPS

"We have existing partnerships in place, and I worry that adopting a new platform will create compatibility issues and strain our relationships."

CURRENT PROCESSES

"Our current processes are well-established and changing them to accommodate a virtual experience platform would require significant time and effort."

RESPONSIBIILITY

"Taking on the responsibility of managing and maintaining a virtual experience platform would be an added burden on our already stretched resources."

BUDGET CONSTRAINTS

"Our budget is limited, and we have other pressing priorities that need funding. Investing in a virtual experience platform may not be feasible for us right now."
Core Consideration
Why it matters to you?
The current state of knowledge sharing inside a company and among the network of external partners is poor. It is something that every business needs to do, both for the sake of consistency in messaging, pushing new products to market, and sales enablement, yet paradoxically, it is still something that is not prioritised.
All stakeholders, both employees, franchisees, distributors, partners, and even customers require on-demand product- and sales material that can be consumed at their convenience in an engaging way. That is not status quo.
The hybrid environment adds considerable pressure to omni-channel orchestration. While data and insights can guide channel and content mix decisions, the right partner input enriches the model.
To ensure that they're protecting the right experience, firms should implement a continuation of channel training and development that focuses on enabling business partners to embrace digital capabilities and understand continuously evolving customer engagement models.
Strategic Focus
Why should you use
virtual experience?
You have too many meetings

You don't have a facilitator

You don't establish and follow ground rules

You count the time, not the tasks

You show up late

You get exhausted from "surface acting"

You invite too many people

You eat during the meeting

You don't have a strong agenda

You listen to the loudmouth, instead of the expert



The Frequent Obstacles
Common Objections
We are ready to take off together with you.
If you need any help in the decision process, we are right by your side.
TOUCH
Pre-Purchase Consultation
Pre-Purchase Consultation
Not sure, if our platform is the right fit for you? A 15-minute pre-purchase consultation will help you decide.
Schedule a meeting
TOUCH
After-Sale Success
You purchased the platform and need help? Schedule a free 1-hour call with one of our specialists.
Schedule a meeting
TOUCH
Budget Package
Not sure if a specific license match your expectations? You can always up- and downgrade after the purchase.
See license options
TOUCH
Free Chat Support
You are facing a problem? Don't worry. You will have chat support included when it comes to questions regarding our platform.
TOUCH
Content production
You have to make content, hire a content agency, or already prepared it but want assistance on best practices? Get in touch and we will help.
Contact us
TOUCH
Customisation Service
You don't want to deal with the process of customisation or have special requirements? We can help!
Get in touch
TOUCH
Process and timeline
Want to understand what is required of you in terms of resources needed? We can scope a project with you and give concrete estimations.
Get an overview with us
TOUCH
Partnerships
Already have a partner or an agency helping you out? Or you are an agency yourself? In any case, we are used to work like that. Contact for more info.
Get a 15-min specialist call here
TOUCH
Onboarding
Want to know how the onboarding process looks like? We are always scoping the project with you to make sure we align strategy and execution.
Talk to an Onboarding Specialist
Digital Enablement
Top challenge is
providing 'real value'
Knowledge sharing are typically often static, have legacy user interfaces, and leaves the users frustrated and confused​. Moreover, the content is oftentimes non-personalised and 10+ clicks is required to get to one piece of content. When business-critical knowledge sharing, for instance clinical data, product usage directives, or even a staff handbook, is built into a general-purpose systems, it forces users into linear content consumption and when users are pressed for time, they're struggling to stay up to date​.
In an ever-changing and hyper-connected world, the amount of information has increased exponentially. Combine this with the fact that traveling to conferences has become less appealing in a post-COVID world, then you have a future look into what effective knowledge sharing looks like.
There's a disconnect between desired and actual content delivery. Companies must reassess content assumptions, bridge the gaps, and deliver partners' desired content in their preferred format, time, and location.
Companies should develop focused campaigns tailored to their stakeholders, emphasising segmentation and targeting. To achieve this, a robust data infrastructure is necessary, enabling a deeper understanding of evolving stakeholder preferences, channel dynamics, and content relevance. This understanding can be leveraged to predict and meet customers' evolving desires and requirements effectively. Additionally, adopting a customer experience planning framework can help mitigate risks arising from external factors. Companies should shift spending away from their own preferences and towards better-performing on-demand channels.
The challenge lies in the fact that virtual events lack the valuable in-person networking opportunities offered by on-site meetings. Hence, efforts should be directed towards crafting improved engagement models that cater to both virtual and hybrid events, ensuring enhanced participant involvement across all event types.
Physical vs. Virtual
Powerful Alone.
Unstoppable Together.
Leading companies are beginning to increase content re-use, lower incremental costs, and reduce overall compliance risk.
Cascading content
Content cascading means diffusing your content in as many public environs and media channels as possible to ensure that you achieve the widest possible reach and provide audiences with the highest level of engagement.
Flexibility
Content can be changed and improved continuously
Our Responses
What we say?
Budget objection: "I acknowledge that budget is a critical consideration for your organisation, and investing in a virtual experience platform may raise concerns. However, it's important to evaluate the potential return on investment that such a platform can deliver. Our virtual experience platform offers numerous cost-saving benefits, such as reduced travel expenses, streamlined communication, and increased productivity. Moreover, we offer flexible pricing options tailored to your organisation's needs and budget. By investing in this technology, you'll not only save money in the long run but also unlock new opportunities for growth and innovation."
Process objection: "I understand that you may be hesitant to disrupt existing processes by introducing a virtual experience platform. However, it's important to consider the potential improvements a streamlined knowledge-sharing process can bring. Our platform is designed to integrate seamlessly into your existing workflows, minimising disruption while maximising efficiency. We provide comprehensive training and support to ensure a smooth transition and help your teams adapt to the new process. By embracing this technology, you'll empower your organisation to work smarter, faster, and more collaboratively."
Responsibility objection: "I understand that taking on the responsibility of managing a virtual experience platform may seem overwhelming. However, our platform is designed to be user-friendly and intuitive, minimising the burden of responsibility on your end. We offer robust support, including technical assistance, training resources, and dedicated customer support. Our team will be with you every step of the way, ensuring a successful implementation and providing ongoing support. By partnering with us, you'll have a reliable ally to help you navigate the responsibilities associated with the virtual experience platform."
Content production objection: "I understand that producing content for a virtual experience platform can be seen as a daunting task. However, I want to highlight that we have resources and partnerships in place to support you throughout this process. Additionally, we can offer thorough strategy sparring based on our experience, helping you tailor the content specifically to your organisation's goals and objectives. It's important to recognise that content production will be necessary regardless of whether we proceed with virtual events or not. By embracing the virtual experience platform and taking advantage of the support and guidance available to you, we can make the content production process more manageable and ensure that your knowledge-sharing efforts are successful."
Powerful alone. Unstoppable together.
Reconcile high-tech with high-touch interactions
Ensure that you're protecting the right knowledge sharing experience for each business-critical stakeholder and make sure that you're enabling them to evolve with you.
"As an international company with multiple different hubs and time zones, we were scouting for a platform that could help us facilitate the sharing of our newest insights and learnings across our various teams. By streamlining our meeting efforts and letting people digest the content relevant to them - when it suited them - we've seen an increase in productivity and sharing of knowledge across the company."