Intelligent Program
Attendees receive a program that is tailored to their specific preferences, aligned with their goals, and curated to provide maximum value. This personalisation enhances the overall user experience, resulting in higher attendee satisfaction and a more positive perception of the virtual experience platform.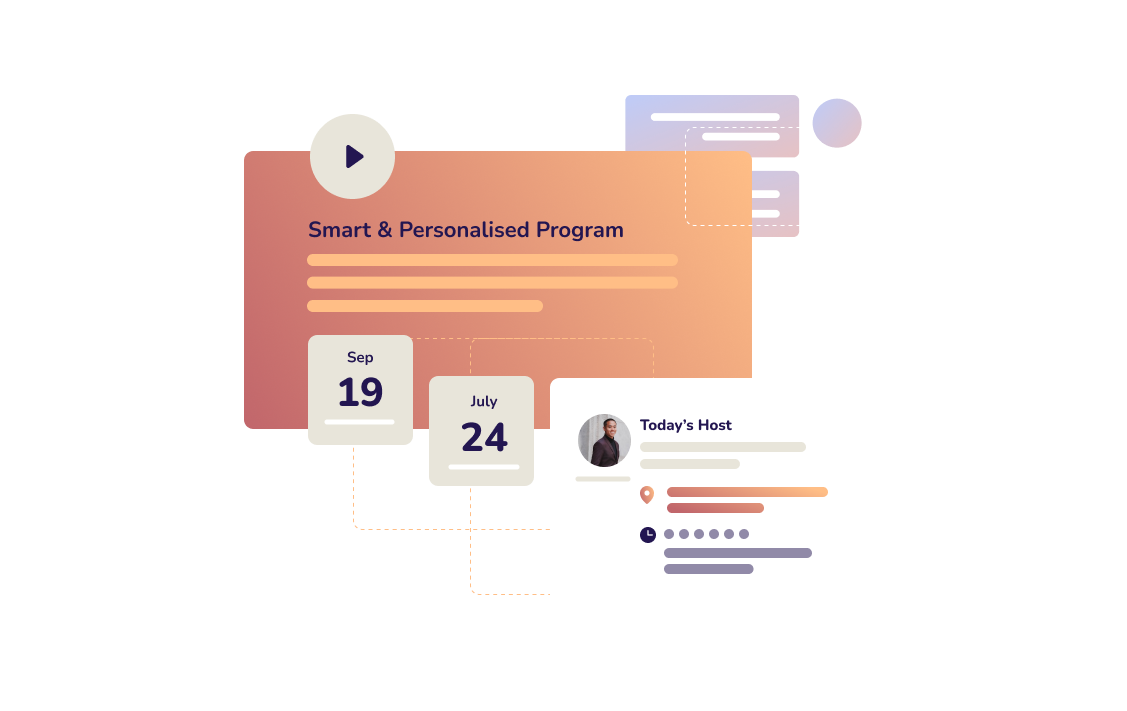 Personalised Programs
Inspired, Informed, and Truly Captivated
"At the heart of our virtual experience platform lies the power of personalised programs. By tailoring event content, learning paths, and networking opportunities to the unique needs and interests of each attendee, we empower them to curate their own extraordinary experience."
Program Feature
Empowering Attendees with Customised Event Programs for Individualised Experiences
Enhanced Engagement: Personalised programs increase attendee engagement by tailoring the program to their interests and preferences. Attendees receive session recommendations, content suggestions, and networking opportunities that resonate with their specific areas of interest. This level of personalisation motivates attendees to actively participate, explore relevant content, and stay invested throughout the event.

Customised Learning Paths: Attendees can follow specific learning paths suited to their knowledge level and objectives. Personalised programs take into account attendees' indicated areas of interest, potential skill level, or learning preferences. By curating a personalised learning journey, attendees can access sessions, workshops, or resources that cater to their specific needs, enhancing their learning experience.

Time Optimisation: Personalised programs suggest sessions that align with attendees' availability and preferences, optimising their time. This feature helps attendees make the most of their time by reducing the effort spent searching for relevant content and ensuring they can focus on maximising their event participation.

Relevant Networking Opportunities: Personalised programs leverage attendee-provided information about their professional interests or areas of expertise to suggest potential future networking opportunities. This feature enhances the effectiveness of networking activities, fostering valuable connections and collaborations between attendees.

Improved Content Discovery: Personalised programs ensure attendees discover relevant content they may have overlooked. By curating session recommendations, content suggestions, and resources based on attendees' indicated interests, previous session attendance, or feedback, the platform helps attendees explore and discover valuable content that aligns with their specific interests.
Individualised Event Experience: Attendees receive a tailored program that makes them feel valued and appreciated. Personalised programs demonstrate your company's commitment to providing a unique experience for each attendee. By curating the program to match attendees' interests, preferences, and goals, the platform fosters a sense of exclusivity and satisfaction, contributing to an individualised event experience.

Increased Retention and Knowledge Retention: Personalised programs improve comprehension and aid long-term knowledge retention. The platform can incorporate different learning modalities or formats based on attendees' preferences and learning styles. For example, attendees who prefer visual content may receive session recommendations with more visual elements, while those who prefer interactive workshops may receive hands-on learning opportunities. This individualised approach enhances attendees' understanding, engagement, and knowledge retention.

Positive User Experience: Customised event programs contribute to a positive overall user experience. By catering to individual needs, interests, and preferences, attendees feel valued, engaged, and satisfied with their event participation. The personalised program enhances the overall user experience, resulting in higher attendee satisfaction and a more positive perception of the virtual experience platform.
The Feature
How it works?
On the admin side of the virtual experience platform, you have the capability to build a comprehensive event program. This program function allows you to register the schedule and various entries of your program, providing you with flexibility and control over the event details. As an administrator, you can customise the title of the event, specify the start and end times, designate the host or hosts, specify the location, and include images and introductory texts for the speaker(s).
If you require registration for specific program entries, such as setting a limit on the number of attendees for a particular program, you can easily configure it. For example, if there is a meeting with a limit of 50 attendees, you can invite only those individuals to that specific meeting, ensuring exclusivity and a controlled audience size.
The program setting also supports the multi-language function, allowing you to create unlimited translations of the different program entries to cater to specific language needs. This ensures that attendees can access the program information in their preferred language, fostering inclusivity and a personalised experience.
When setting up the program, you establish a time zone for the overall event, regardless if this is just a regular event or an always-on event such as partner enablement or channels sales training. The start and end times of each program entry are automatically adjusted to the default time zone, such as Pacific Time, providing consistency across the platform.
In the database, Virtual Hive saves the time entries as UTC time, which means that each attendee will view the program in their respective browser's time setting. This ensures accurate scheduling and avoids confusion related to time zones.
During the event, when attendees access the program, we highlight the currently live-broadcasted content. This strategic highlighting serves as a gentle reminder, encouraging attendees to join the live session while they still have the option across time zones, promoting engagement and timely participation.
Filtered Product Qualities
Top 3 Role-Focused Features
Train & Engage Community
Event Management
Sales Activation
Process Optimisation
Bring Products to Market
Passionate Use Cases
Unleash the Power
of Knowledge Sharing
Achieve higher customer loyalty through increased content relevancy