Architectural
Summit
The Velux Build for Life Conference
Client
VELUX

---
Danish manufacturing company with over 80 years of experience in roof windows, skylights, suntunnels and related accessories.
---
---
Objective
The aim of the Build for Life Conference was to gather industry professionals to discuss the development of healthier and more sustainable building strategies worldwide. The idea was to spark inter-disciplinary dialogue between the fields of architecture, building design, engineering, sustainability, and activism, to combat growing climate issues.
How
The conference on sustainability also intersected with VELUX's 9th Daylight Symposium, a biennial conference discussing the importance, scientific reasoning, and practical applications of daylight in building design. Additionally, VELUX planned to introduce the Build for Life compass, a framework for designing healthier buildings, to establish a common language when approaching building design and construction.
Result
The 3-day conference on sustainability had 90 international speakers from different industries. They consisted of architects, engineers, urban and residential developers, activists, scientists, and more. It also received over 7,000 sign-ups and over 3,000 participants from 130 countries. The platform's content library had over 24,000 interactions, which far exceeded initial expectations.
How We Helped VELUX
Echoing the company's core value of sustainability and integration with nature
Tasked with this project, Virtual Hive supplied VELUX with a large virtual venue. The venue was fully customized with greenery and permeated with natural light, creating a warm and welcoming atmosphere.
The 3D event was conceptualised by Virtual Hive and VELUX together, creating a feeling of being 'outside inside', which echoed the company's core value of sustainability and integration with nature.
The platform included a lobby for users to navigate between rooms and sessions, two stages, a help desk, and a content library that was accessible anytime. Hosts were broadcasted live from Copenhagen from the two stages, which were labelled the Compass Stage and the Daylight Symposium Stage.
On the Compass Stage, speakers addressed building flexibility, quality, and affordability, while the Daylight Symposium Stage was reserved for scientific and architectural discussion on the use and importance of daylight in daily life. The stages also broadcasted two local scenes filmed in the US and China.
While Virtual Hive built and managed the event platform, our mother company Agenda Group provided project management support before, during, and after the event. They took care of content set-up and live production and assisted in creating landing pages outside of the platform, including a 'Meet the Experts' page that introduced key speakers.
What Was Needed
The Challenge
The conference was originally planned as a physical event but transitioned to virtual with only the hosts and production crew on location.
Due to this, VELUX wanted to ensure that the virtual event would be able to live up to their own requirements for content, design, and functionality, as well as adhering to the company's branding and values – which focus heavily on sustainability and integration with natural elements such as daylight.
As frontrunners of this global thought-leader project, VELUX also wanted to impart knowledge and create thoughtful conversations surrounding the topic. Most of all, they wanted to be able to keep participants engaged throughout the conference, and to make them feel at home and a part of a community.
What VELUX Achieved
RESULTS
The 3-day conference on sustainability and architectural excellence featured 90 renowned international speakers representing diverse industries including architecture, engineering, urban development, and activism. With over 7,000 sign-ups and more than 3,000 participants from 130 countries, this virtual event created a global community of sustainability enthusiasts. The content library had over 24,000 interactions, surpassing all initial expectations and fostering engaging discussions and knowledge sharing.
Post-event, presentations and discussions were uploaded onto the content library which was made accessible for 3 months on-demand.
Furthermore, Virtual Hive provided VELUX with a comprehensive data package based on participants' use of the platform for effective lead generation to ease the planning of future virtual events. Data was based on user journeys, interactions, and feedback.
All in all, the Build for Life Conference was very well-received, and the VELUX Group was positioned as a global thought leader with their insight and expertise.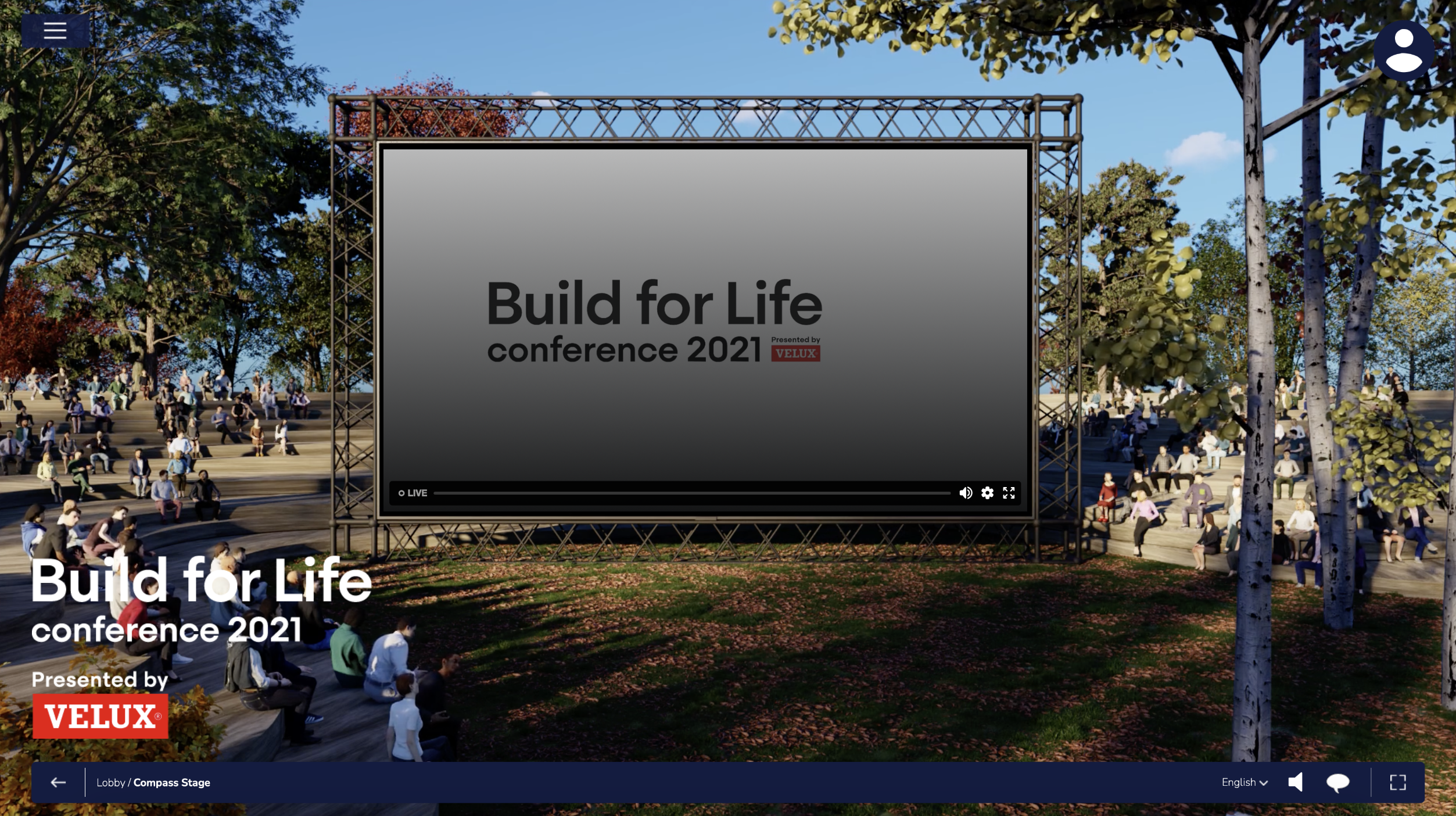 "After many months of planning and preparation, the Build for Life Conference had
gathered architects, engineers, builders, researchers, students, and other industry professionals from around the world to explore ways that — together — we can create well-being for people and the planet through building design."