Virtual Management
Conference
Bayer's 2023 Global Management Conference
Client
Bayer AG

---
Headquartered in Leverkusen, Bayer is a German multinational and a leading global player in the pharmaceutical industry. Their business segments span pharmaceuticals, consumer healthcare, agricultural chemicals, as well as seeds and biotechnology products.
---
Objective
To conduct a global management conference with 400 attendees in a virtual format without compromising interaction and engagement. Also, the objective was to provide an intuitive and collaborative platform where attendees can network, attend various sessions, and view real-time analytics.
Timeline
Preparation Phase (2 months prior): Initial discussions, platform customisation, and workflow planning. Training Phase (3 weeks prior): Training sessions for Bayer AG team members for platform operation and emergency protocols. Execution Phase (Event Day): 1-day event featuring keynote speakers, breakout sessions, Q&A panels, and networking opportunities. Post-event Phase (1 week after): Data collection, analytics report, and feedback collection.
Result
Average session attendance was over 90%, indicating high attendee engagement. 95% of participants rated the platform and conference experience as "Excellent" or "Very Good." Over 5,000 interactions recorded in the networking lounge and 2,000 questions raised during various sessions. Saved an estimated 60% in expenses compared to a physical event, without compromising on the quality or engagement.
How We Helped Bayer AG
Virtual & Global
Management Conference
Bayer AG, a leading global enterprise in pharmaceuticals and life sciences, faced a challenge in organising its annual Global Management Conference amidst the ongoing limitations of physical gatherings. The company decided to partner with Virtual Hive, utilising its innovative Virtual Experience Platform for a seamless and immersive conference experience.
Virtual Hive undertook a range of customisations to meet Bayer AG's specific needs:
Custom Virtual Lobby: Designed a virtual lobby mimicking Bayer's branding elements.




Interactive Auditorium: An auditorium-style virtual room for keynote and other major addresses.

Breakout Rooms: Multiple parallel sessions enabled in customisable breakout rooms.
Networking Lounge: An interactive lounge with avatar-based networking, enabling attendees to engage in one-on-one or group conversations.

Analytics Dashboard: A real-time dashboard for Bayer's team to monitor engagement metrics.

Multi-lingual Support: Added support for multiple languages to ensure inclusivity.




Bayer AG's Global Management Conference was a resounding success, meeting all predefined objectives. The event not only facilitated meaningful conversations but also demonstrated the effectiveness of virtual platforms as a viable alternative for large-scale corporate events. Partnering with Virtual Hive enabled Bayer AG to realise its vision for an inclusive, interactive, and impactful conference.
What Was Needed
Requested Opportunities
Bespoke Virtual Entrance Hall
We crafted a virtual entrance hall that mirrored Bayer AG's unique branding elements. This included company colours, logos, and themes, creating an immediate sense of familiarity and brand alignment as attendees entered the virtual space.
Engaging Virtual Main Stage
Our platform featured a virtual main stage designed in the style of an auditorium. This served as the central hub for all keynote speeches and primary addresses. High-definition audio-visual capabilities ensured a seamless and engaging experience, approximating the gravitas and focus of a physical auditorium setting.
Tailored Breakout Session Rooms
To facilitate parallel sessions on specialised topics, we implemented customisable breakout rooms. These rooms offered features like interactive polls, Q&A sessions, and document sharing, enabling an interactive and educational environment for all attendees.
Dynamic Networking Suite
We integrated a networking suite complete with avatar-based interactions. This feature allowed attendees to move freely within a virtual lounge, engage in real-time conversations, and form groups for discussions, much like they would in a physical setting. This capability encouraged networking, collaboration, and informal catch-ups among attendees.
Comprehensive Analytics Control Panel
Our real-time analytics dashboard enabled Bayer AG's event team to monitor a range of engagement metrics continuously. These included attendee participation rates, interaction volumes, and time spent in each session, helping the organizers measure the event's success dynamically.
Inclusive Multi-Language Interface
Acknowledging the diverse background of Bayer AG's global attendees, we incorporated multi-language support into our platform. This ensured that participants could navigate the virtual space, engage in sessions, and network with peers without facing any language barriers.
Each of these features was specifically designed and deployed to align with Bayer AG's objectives for a high-engagement, inclusive, and brand-consistent global management conference.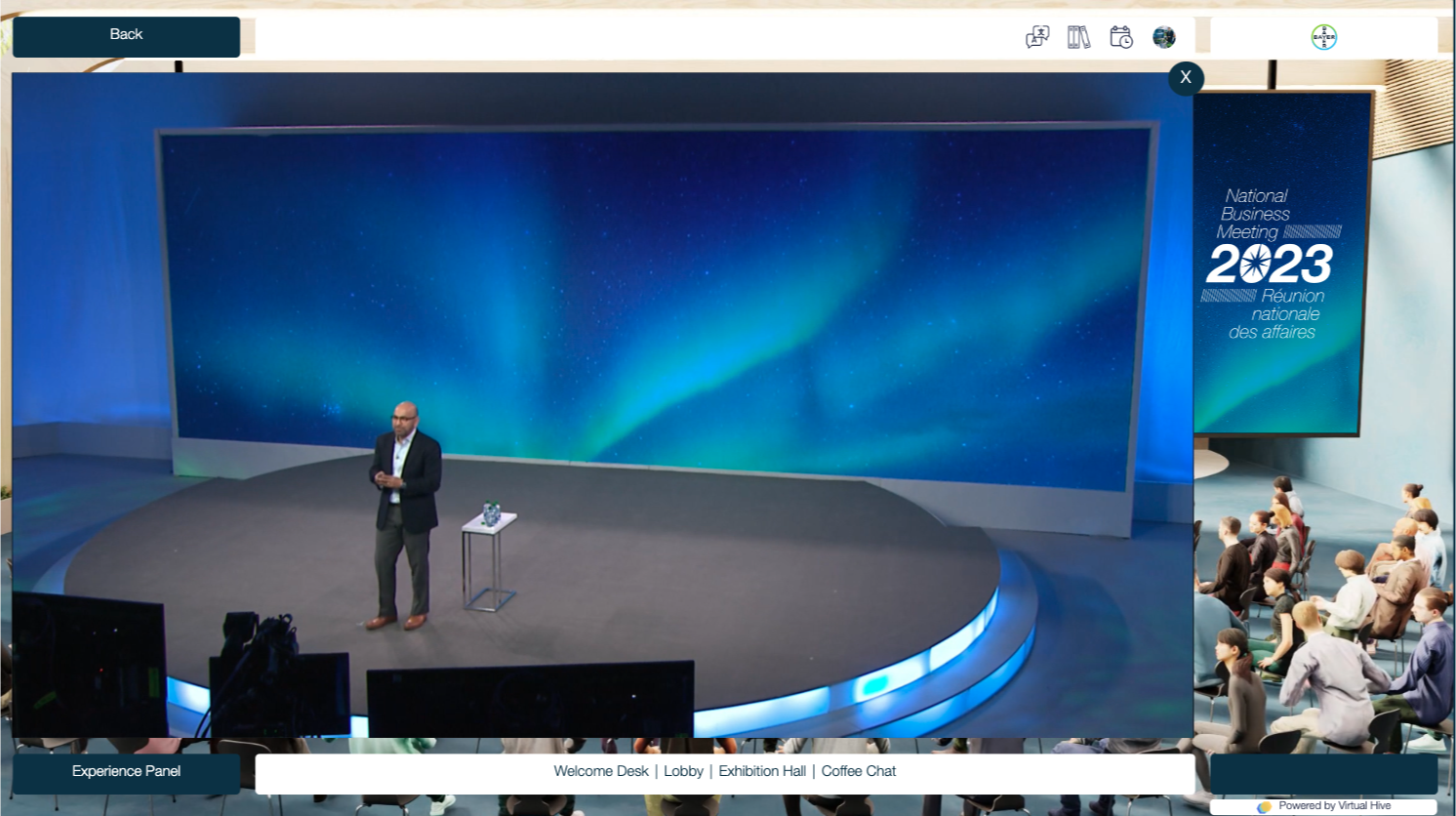 "With a few clicks, attendees were able to join a global, real-time community, where people met and interacted just like a physical event."

What Bayer AG Achieved
RESULTS
The average attendance rate across all sessions surpassed the 90% mark. This level of participation signifies that attendees were highly engaged in the conference, speaking to both the content quality and the effectiveness of the virtual platform in keeping the audience invested.
An impressive 95% of attendees rated their experience on the platform as either "Excellent" or "Very Good." These high satisfaction rates underscore the platform's user-friendliness and the conference's overall success in meeting or exceeding attendee expectations.
Our analytics recorded a noteworthy volume of interactions throughout the conference. Specifically, over 5,000 interactions were logged in the networking lounge, and more than 2,000 questions were submitted during various sessions. These numbers reflect a high level of interactivity and engagement among participants, fulfilling one of the primary objectives for the event.
By opting for a virtual conference, Bayer AG achieved an estimated 60% reduction in overall event-related expenses compared to what a physical conference would have cost. Importantly, this cost-efficiency did not compromise the event's quality or engagement, making it an optimal solution for a large-scale, global event.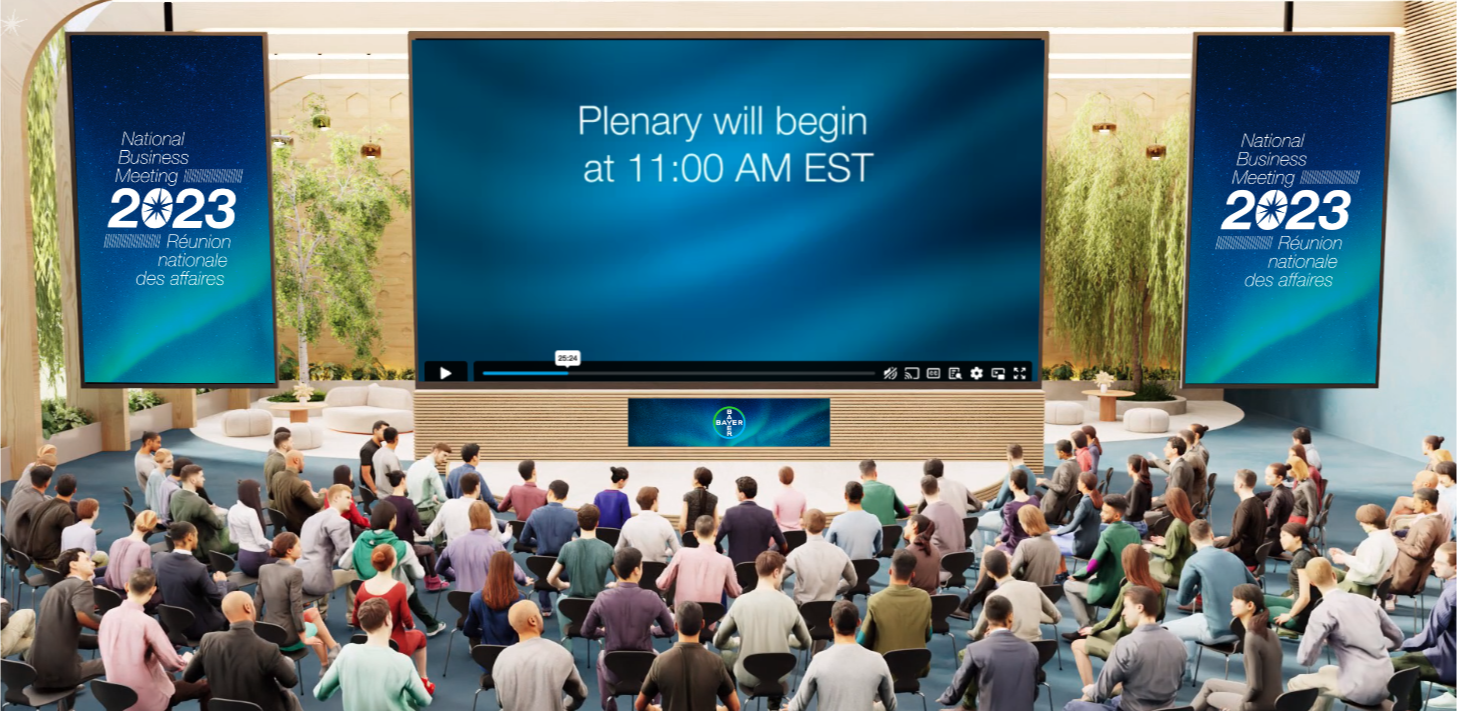 "We gained valuable attendee data and analytics."