Product
Conference
Deep-dive Into Carlsberg's Product Portfolio Among Its Top Management
Client
Carlsberg

---
Danish multinational brewer with a beer portfolio that spans +140 brands, including local power brands and international premium brands, craft, speciality brands, and alcohol-free brews.
---
Objective
The primary aim of the Carlsberg Commercial Team Leadership Conference in 2021 was to enable the company's global management team to collaborate effectively in the development of strategies and sharing of insights across various shared services. The conference sought to maintain the brand's values and interactive experience while transitioning from an in-person to a virtual format due to the ongoing pandemic.
Timeline
Planning for the event started three months prior, with a dedicated project team working in tandem with our platform's specialists. The event was executed over a period of three days, preceded by five days of pre-recorded material that attendees could access at their convenience. The live sessions consisted of keynote addresses, breakout sessions, interactive workshops, and a virtual beer tasting event.
Result
The conference was met with overwhelming approval from both the Carlsberg project team and the attendees. Our platform's interactive features and virtual spaces allowed for robust knowledge sharing and networking opportunities, successfully replicating many elements of an in-person conference. The event proved to be an effective method of aligning Carlsberg's global leaders with their annual objectives and company values.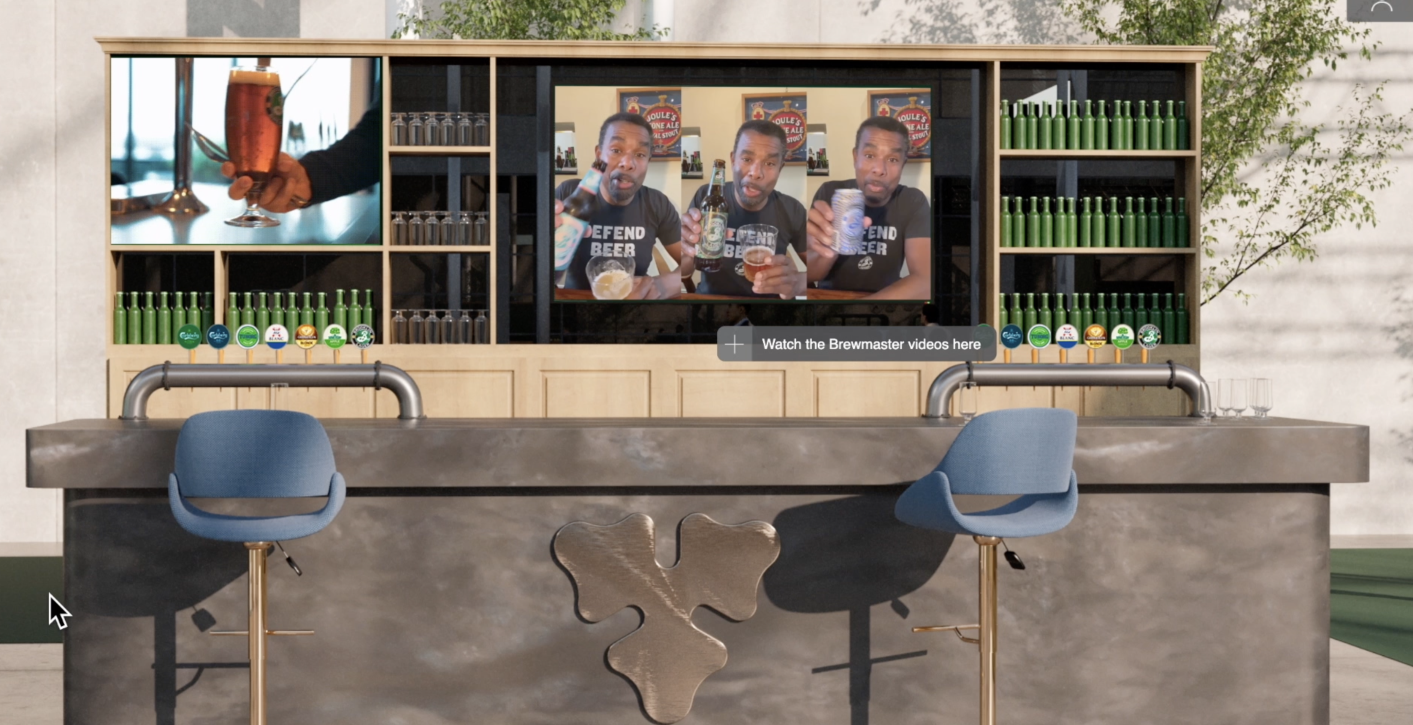 "The platform proved to be a rewarding and inspiring environment for our leaders around the globe when listening to important keynotes and discuss forward-looking startegies and deep-dive into our product portfolio."

How We Helped Carlsberg
Virtual Product Launch Event
for Carlsberg's Management
One of the most critical aspects of the Carlsberg Conference was to provide a comprehensive deep-dive into the company's extensive product portfolio. Understanding the diversity and richness of Carlsberg's offerings was crucial for the global management team to formulate effective strategies and meet annual objectives.
Customised Virtual Exhibition Hall
We aided Carlsberg in this aspect by designing a virtual exhibition hall within our platform, specifically tailored to showcase their range of beers and other beverages. Each virtual 'booth' was meticulously crafted to offer information on individual products, from their history and brewing process to their market performance and customer reviews.
Interactive Features for Enhanced Engagement
The exhibition hall was not just a static presentation; it was an interactive experience. Attendees could click on different products to view multimedia presentations, download product sheets, and even engage in live chat with product managers and brewers for real-time Q&A. This interactive approach facilitated a more in-depth understanding of the product lineup among the management team, allowing them to ask specific questions and gain insights that PowerPoint slides alone could not provide.
Live Product Demos with Master Brewers
One of the highlights was a live product demo session conducted by Carlsberg's master brewers. Using our platform's live-streaming capabilities, they led the attendees through the nuances of different brews, explaining the subtleties that make each product unique. This offered a tactile and sensory dimension to the deep-dive, enriching the overall understanding of the portfolio.
Integration with Strategy Breakout Sessions
To synthesise the learning, the deep-dive was followed by strategy breakout sessions where teams could discuss how to market, distribute, and innovate these products based on the knowledge gained. These discussions were integrated into the platform's existing breakout room functionalities, offering a seamless transition from learning to strategising.
By creating a customised, interactive space for Carlsberg to explore its product portfolio, we enabled the global leadership team to gain a robust understanding of the brand's offerings. This not only empowered them with the knowledge needed to formulate strategic decisions but also created a more engaging and effective conference experience.
What Was Needed
Requested Opportunities
Breakout Rooms: Multiple virtual spaces were required where smaller groups could hold discussions on specific topics or departments.


Digital Whiteboards: Interactive boards were requested for brainstorming and idea mapping in real-time.


Live Q&A and Polling: Features enabling immediate feedback and participant engagement during presentations were essential.


Content Libraries: A space to securely host and share digital assets, such as pre-recorded presentations, documents, and data analyses, was required.


On-Demand Access: Attendees needed the ability to access certain materials and sessions after the live event for further study or review.
Custom Virtual Exhibition Hall: Carlsberg requested a dedicated area to showcase their product portfolio interactively, complete with virtual booths and live product demos.
Virtual Beer Tasting: To translate their signature open-bar experience into the virtual realm, the platform was required to facilitate a guided, real-time beer tasting session.

Networking Lounge: A virtual space mimicking a social lounge or open-bar area where attendees could freely interact and network was a must.

Virtual Social Zones: Areas where attendees could socialise casually or engage in lighter activities related to the Carlsberg brand were requested.

Engagement Metrics

: Post-event analytics on attendee engagement, session participation, and content interaction were needed for evaluating the event's success and areas for improvement.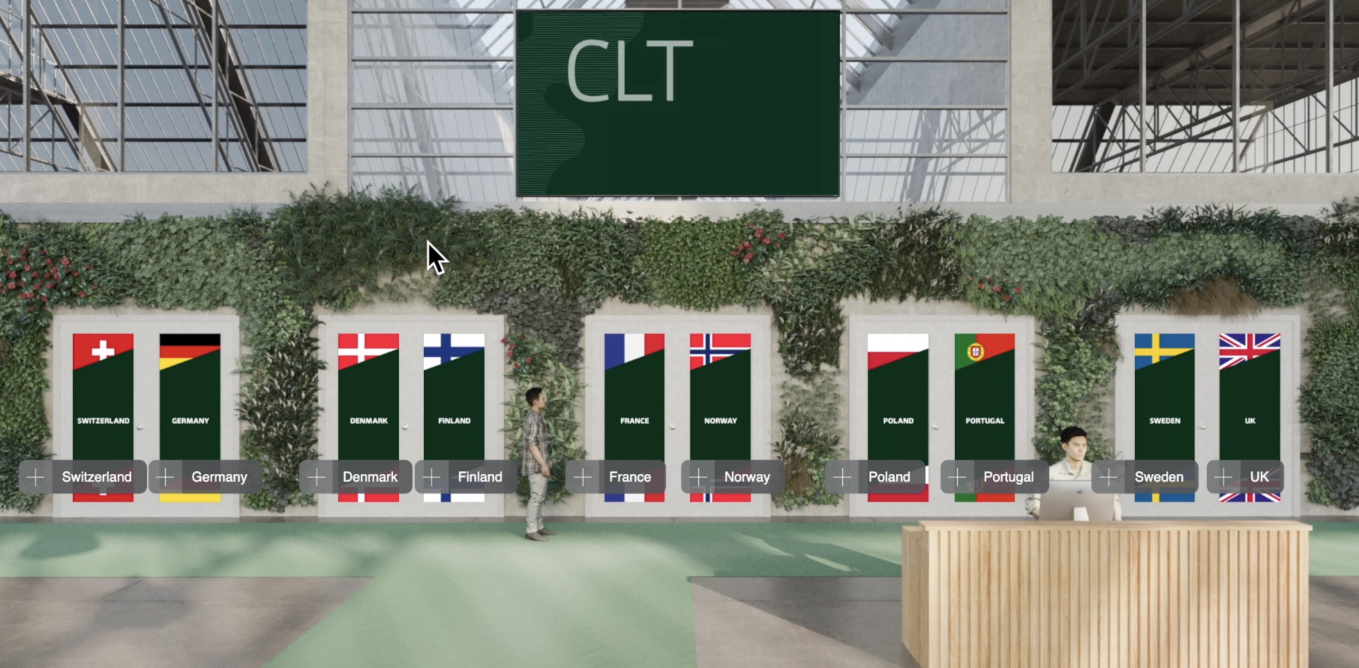 "We were supported with an outstanding virtual platform and the team made sure that our global leadership event was executed to perfection."

What Carlsberg Achieved
RESULTS
The three-day virtual event was a resounding success. The interactive features of our platform enabled Carlsberg's global leadership to collaborate effectively, brainstorm strategies, and come away with actionable insights to meet their annual goals. Over 95% of participants reported high levels of satisfaction with the event, and many praised the seamless integration of the Carlsberg brand experience into the virtual conference.
Thanks to our virtual experience platform, Carlsberg not only overcame the logistical challenges posed by the pandemic but also discovered new, innovative ways to engage their team and share knowledge across their global network.
For Carlsberg, the journey towards achieving their annual objectives started with reimagining what a virtual event could be. And for us, it was another opportunity to demonstrate the boundless possibilities of our platform in adapting to the unique needs and brand values of our clients.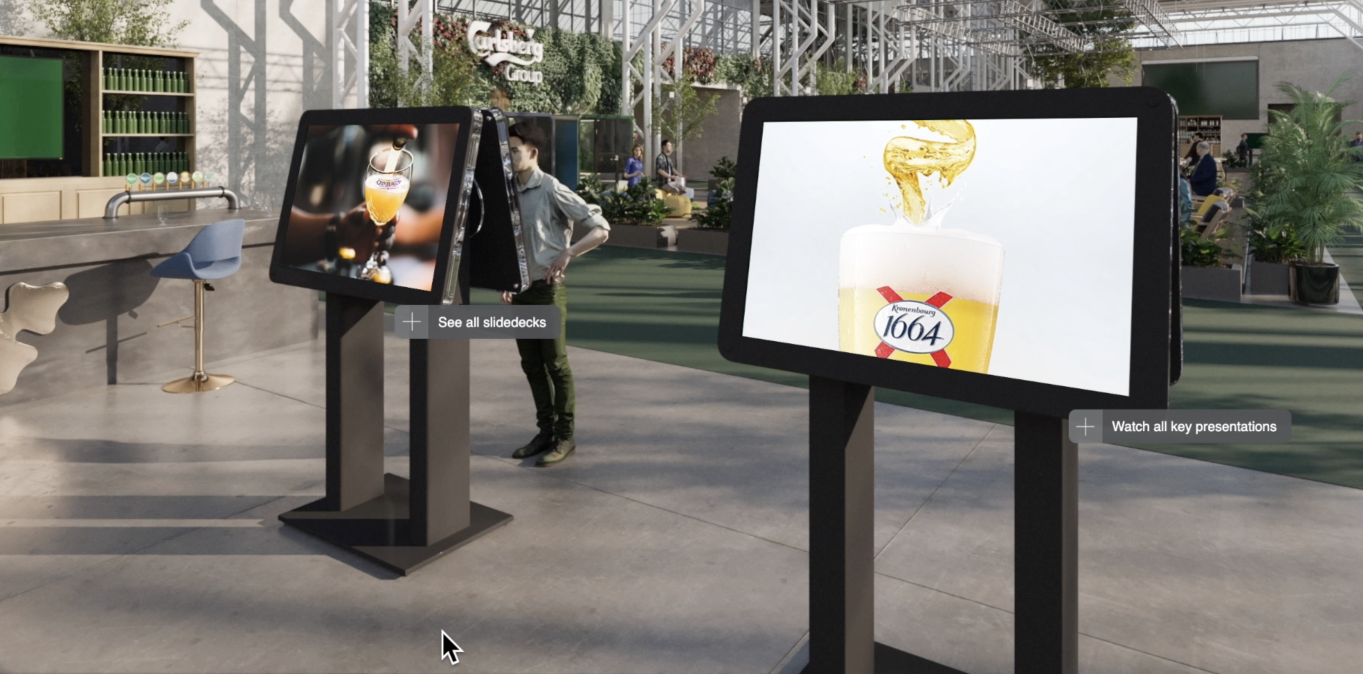 "This platform definitely sets the bar for future virtual and physical conferences."